When talking about Grindcore, it is normal to think of flagship bands like Napalm Death, Carcass, Nasum, Brujería or Carnal Diafragma that everyone places in the UK, USA or Czechia. But why limit yourself to well-known countries? Servant, who is an avid seeker of new groups and musical emotions whether they have been discovered by chance or by third parties; discovered Tottal Tømming, the band I invite to you to discover, relatively recently.
And the fact of coming from Norway makes many handicaps and patrons reconsider. Because although there are countries that seem given to one style more than others, it is well known that the most beautiful flowers are also born in the most remote places.
As well, I get in touch with its singer and leader Morten Renvåg Müller aka Sigrid, so that he can tell me the reason for everything.
K: When do you start with Tottal Tömming?
S: Yooo! The band, the concept and the idea were conceived in 2016, while I was on tour with TrollfesT in Texas.
K: Could you introduce me to the members and their band's role?
S: Pelle Peddal (Jon Eirik Bokn) at drums and frustration, Sigrid Vollgraven (Morten Renvåg Müller) at lead vocals, guitars and misunderstanding, Carl (Christopher Marchand) at guitars and neurosis, Harry Harley (Atle Johannessen) at bass and guns, Benny Brekk (Alexander Klæboe) at guitars and tension, Max Feedback (John Espen Sagstad) at solo guttar and plastic bags and Øystein (Birger Larsen) at bass and money.
K: Why you decide to play Grindcore, a gender so unusual in a country like Norway, very focused to Black Metal?
S: Because it's fun! We wanted to harness the energy us friends have when we party and laugh together and translate it into a musical playground! Don't you think there are enough Black Metal bands already? (laughing)
K: Are more Grindcore bands in Norway?
S: A couple. Right of the bat I can think of Beaten To Death, Makkmat, Grinding Fortune and Shaving The Werewolf.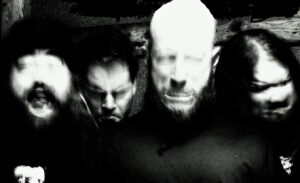 K: Within Grindcore, one of my favorite styles by the way; we know that there are two very different schools: the one that drinks from the more Gore heritage started by the first's Carcass albums and the one that follows the more Punk branch led by Napalm Death. After listening to you, I would say that you are more from the Punk branch, are you agree?
S: Yeah, sure! The energy of Punk is something I love, and it's always gonna be apparent in our music! Napalm Death is our biggest influence, tho. Not just musically, but also energy wise. They are such an incredibly mad live band, mostly due to Barney's onstage antics.
K: But your vocal register are very rough. Is it a way to distance yourself from the aforementioned schools?
S: I don't care about stuff like that. I just want Tottal Tømming to sound extreme, aggressive, funny and mad! It's all about the fun, epitaphs and legacies are not the priority!
K: Sometimes you use the adjective 'Crust' to following Punk. Could you tell me what is Crust Punk and the possible difference between them and Classic Punk?
S: As far as I know, Crust is about a drum beat. Like the Slayer beat without the second bass drum pedal. It's fast! Classic Punk varies more in tempos and beats, I guess. Maybe Crust is more monotonous.
K: Something that greatly characterizes the Grindcore Punk is the fact of creating very compact, fast and musically neurotic songs. Although the themes are very short, how do you compose a song that many times only lasts 2 minutes but still has all its differentiated parts?
S: When I write songs for Tottal Tømming, I just let myself go and let the music flow from me. When a song feels done, it is done. Doesn't matter if it's 2 minutes, 2 seconds or a half hour. It's not a problem, really. You just gotta let the creativity do the steering, and not your intellect.
K: Do you think that sing your songs in Norwegian make them stronger than in English?
S: We usually take on roles, or characters, in this band. And all our characters are based on a Norwegian stereotypes. Usually from the east side of Oslo, a classic working class kind of guy, or perhaps a stereotypical hoodlum or small time thug from classic, old school Norwegian fictional worlds. So at this point, it would not make sense to sing in English, or any other language for that matter, unless the characters themselves would find a logical reason to do it. We did do a song in Spanish, tho, called 'Estupido y Loco!' It was a spanish version of a Norwegian song, and mostly it was a tribute to the Colombian grind scene!
K: In terms of albums, you have released two complete albums, plus three live, apart from many singles. This September, you have released your 3rd studio album Om hundre år er allting brennt!!! ('Within a hundred years everything will be burned!!!'). Tell me a little about what you talk about in it.
S: All our albums have dealt with specific emotions or emotional challenges, if you will. Schtøgg Skive (2019) was centered around anxiety, Tankeskrekk (2020) dealt with depression, the Ep  Omgangsspsyke from 2021 was about generalized schizophrenia and unpredictable insanity. Om Hundre År Er Allting Brennt!!! Tackles anger and rage in its purest form! It is our most violent and aggressive album to date! It feels like our most coherent album so far, and it's the one with the most blast beats yet.
K: Do you start to play it live? Would you like to have the opportunity to show your music out of Norway?
S: We have played 4 shows so far. All of us are busy with many other projects, so we'll do it whenever we find some time. We would love to play anywhere and everywhere! So feel free to send us a booking request at tottaltomming@gmail.com!
Said remains. Promoters, take risks and bet on what is fresh and new.
TOTTAL TØMMING at RRSS
Facebook
https://www.facebook.com/TOTTALTOMMING/
Instagram
https://www.instagram.com/tottaltomming/
Spotify
Listen their 3rd studio album Om hundre år er allting brennt!!! (So cool and fresh. 100% Recomended!!)
https://open.spotify.com/album/0Z7ncCOVzQwCBrHw11DdFu
A personal recomendation